BREEAM
Make the most of your accreditation and achieve your target environmental rating – with help from our experts.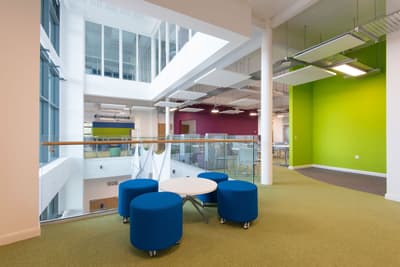 BREEAM Accreditation
Don't be shy, BREEAM is a way to shout about your work. BREEAM stands for Building Research Establishment's Environmental Assessment Method. BREEAM assessments are a way of measuring and assessing the environmental performance of buildings. Recognising a building's environmental impact helps set higher standards for building design and encourages more people to consider the environment when planning a project. So we're all for it.
Get recognised for your contribution to Net Zero
It doesn't matter what kind of building you're working on; people are at the heart of it. When you design a building around the people who live and work there, considering its environmental impact during construction and operation, you and your building should be recognised for this. Whether your project is a modest building or a huge development, BREEAM allows you to compete for recognition on a level playing field. Our expertise allows you to navigate BREEAM and promote your success.
We can help you get there
We take time to listen to you. We'll understand what your aspirations are and we'll help you navigate BREEAM in line with them. We set out an initial BREEAM strategy for you and explain it in a non-technical way. Sustainability shouldn't mean extra costs and neither should BREEAM, if you do it in a balanced, thoughtful way. At Viridis, we use our creative energy and knowledge of BREEAM to achieve the environmental rating that meets with your goals.
An initial BREEAM assessment at the feasibility stage of your project leads to dividends for you. When we get your BREEAM assessment started at an early stage, you can be sure that your project aspirations, any BREEAM requirements and the environmental goals that you want to set are all aligned and balanced. As with sustainability, BREEAM doesn't have to be costly when you partner with Viridis.
In a nutshell
• Guidance on applying for and achieving BREEAM accreditation
• Advice on making the most of your accreditation
Related Projects
Find out how our expertise in navigating the BREEAM process made a big difference to these sustainable projects. All Viridis Projects
Let's talk
We can't wait to guide you through the BREEAM process and help you reap the benefits.
We'll always listen to your goals, aspirations and challenges. Then we'll create a BREEAM strategy that's straightforward and stress-free.
Get in touch and let our experienced team explain why BREEAM accreditation is right for you and your project.